What Are The Organisational Advantages of Using Powered Hand Tools Elearning?
Managers, employers, and supervisors have the responsibility of ensuring that their workplace is the safest environment it can be.
Now, it must be remembered, everyone is responsible for their own actions in the workplace. But proactive training, such as powered hand tools eLearning, can help foster safe mindsets in workers that use such equipment.
Our video eLearning courses can help build a valuable culture of workers equipped to address risks and prevent incidents.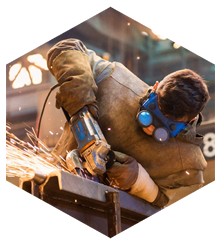 Workers using powered hand tools are exposed to many hazards, such as:
Falling and flying objects or debris
Sharp edges and blades
Potentially harmful vibrations and shocks
Entanglement in moving parts
Dusts, fumes, sparks, and mists
Dangerous noise levels
Contact burns and electrocution
ELearning is a practical, time-efficient, and financially viable solution for delivering workplace training regarding the use of powered hand tools.
In other words, organisations can reduce costs and productivity losses with on-site eLearning, rather than taking personnel off-site for training. In fact, online video eLearning courses require around 60% less contact time than classroom-based training.
Trainees can also utilise powered hand tools eLearning and online training video courses remotely on smartphones and tablets. This flexibility is, undoubtedly, a huge economic advantage that difficult schedules and traditional training sessions often don't allow for.
Our video eLearning covers key areas of electric, pneumatic, and battery hand tools, PPE, tool safety & risks, and more. Furthermore, organisations have demonstrable evidence that training was provided with our comprehensive training reports and photo verification.
In essence, you have the ability to prove your organisation's proactive approach to powered hand tool training and workplace safety.